Congratulations!!…to the winner of my Fetish creative writing contest:  Alana Chappell.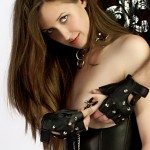 Of the 5 options, Alana chose image #1 (shown to the left) as her inspiration. Her story, inspired by that image, was the winner, and will be featured on the site 'mypoutylips.com' (an erotic writing site) and in this post (see below).
It is my hope that everyone has a different 'story' in their head when they view my artwork…and Alana certainly had her own!
Alana (shown below, with her books) has just moved to Seattle, Washington, but was raised in California. She is the author of "Sacred Thoughts", a collection of Erotic Stories compiled in three separate books.
Here is her story. She was limited to 1500 words, so it is by intent a very short story. If you like her writing, you can get her books (Kindle edition) on Amazon.com. Enjoy!
——————————————- Begin Story ——————————————-
Sarah had spent the morning cleaning the home that she and her fiancé occupied together.  While unraveling the vacuum cord, she noticed that there was a little black book gently shoved underneath the mattress.  
"Hmm," she thought to herself as she gently laid the vacuum cord back down on the floor. Curiosity getting the best of her, she reaches underneath the mattress towards the little black book and pulls out this mystery item.  Her heart pounding out of her chest, and a little concerned on what she might find, she holds the mystery book close to her chest.
"Why would he have a little black book, we have been engaged for over a year now, and are completely committed to each other?" she wonders.   As she anxiously opened the first page, she finds herself in awe. "What is this?" she says anxiously, concentrating on the images before her.  
"Mmm," she lightly moans in astonishment as she gazes at these intriguing pictures that fill the little book. "I have never seen anything like this before," she whispers to herself.  As she turns the pages, her curiosity is heightened and her urge to continue overwhelms her.  She can't take her eyes off of this little black book, and she reaches behind her, finding the edge of the bed to sit.  There were detailed images of her fiancé in a dominating stance.  He was visibly dominating hundreds of girls in this book.  
"Wow," escaped her lips as she continued to flip through this secret black book.  She begins to feel completely overwhelmed and confused. She takes a deep breath as she feels her chest getting heavier with each inhalation.
"Why wouldn't he tell me about this?" she has to wonder to herself. Feeling betrayed, and yet a little intrigued, she continues to flip through the pages. Pictures of women who have been tied up gagged and bound fill the pages. Could it be that she was about to marry a Master?  
As she gazes through the photos, to her surprise, she finds herself completely aroused. The thought of her fiancé dominating her really begins to turn her on. She starts to imagine herself in these pictures as she gazes into the eyes of her man.
 Her body begins to respond to the images while she is perched on the edge of their bed, clutching to this newly discovered eroticism. Surprised at her own reaction, she begins to lightly throb between her thighs.  Feeling overwhelmed and extremely aroused, she reaches across the side of her bed for her favorite vibrator. It was a lilac colored vibrator with a strong clitoral stimulator at its base. She knows her fiancé won't be home for quiet some time, so she stands up, and slowly removes her clothes and they gently fall to the floor.
Coming back to her bed, she settles down on her back, and turns her vibrator on.  With one hand holding open the book of erotic images, she uses her other hand to place the vibrator on top of her lips down below.  The vibration causes her body to flex as she gently rolls it around her clit. "Ahh," she gently moans as she arches her back. Glancing at the photos she has forever embedded in her mind, she imagines herself being tied to the bed as her fiancé takes full sexual advantage of her.  As she gently slides her vibrator across the apex of her womanhood, she can feel her body respond, becoming wet and ready for penetration.
"Mmm," she moans as she places the book to the side of her head.  Completely enthralled with this all-consuming urge, she gently thrusts her 6 inch vibrator deep inside of her. Her head whips to the side as her legs spread wider and wider, her body awaking to the pleasure.  "Uhh," she moans louder, her clit becomes extremely sensitive to the vibrations created by her toy.  Looking down her body, she can see her nipples have become completely erect, and aching to be touched.  She reaches around with her free hand, grabs ahold of one of her nipples, and lightly pulls. 
She begins to imagine what it would feel like to have nipple clamps on, like the ones she had seen in those sensual, dominating images. Her body jerks back and forth as she can feel herself cumming "Ah huh!" she moans hysterically as she explodes all around her vibrator, climaxing to her fantasy.  As she softly begins to slide her vibrator out of her, she finds herself tingling from the aftermath.  She immediately feels the urge to cum again, and slides her vibrator back in between her thighs. Lying down again on the bed, in a state of bliss, she begins to slide her pleasuring toy in and out of her soaking wet pussy.  "Ah fuck," she screams as she is overtaken by orgasm.  Her body shakes and her legs falls apart, as she lies exhausted on the bed.
Lying on the bed, her naked body glowing from the aftermath, blissful and fulfilled for now, she imagines what it would be like to be dominated by a Master.
 "I can't believe he has never told me about this," she says aloud, as she reaches for the book next to her.  "I want to be a part of his secret world, "she thinks to herself as she lies limp across their bed. "How can I tell him that I know about his secret world?" she thinks to herself.  She would not want him to think that she was snooping through his things. "Hmm," she says, as her mind thinks of ways to approach the subject. She remembered a party that they had attended together. Oddly enough, it was a fetish party, she realizes.
"I have an open leather corset that I could put on!" she exclaims.  She frantically looks for her leather corset.  "Maybe it's stuffed in the back of this drawer!" talking aloud in her search.   Throwing clothes from the drawer onto the bed, she prays that it is located in the back.  "Bingo!" she proclaims, as she snatches the corset from the back of the drawer.
                As she holds her sexy little corset in front of herself, she is reminded of the time when she last wore it. "Hmm I do remember having great sex in this little number," she smiles as she reminisces.
 "That dirty little sneak," she rumbles, as she is reminded of the little black book. She shoves the book back under the mattress, and glances at the clock. "Wow! Where did the time go?" she says as she goes to clean up.  Her fiancé will be home in 15 minutes!  She grabs her little toy and puts it back into the nightstand drawer where she keeps it. 
Quickly she straightens up the covers on the bed that were ruffled from her session of self-indulgence.  She then runs to the bathroom and places the corset around her waist. She glances in the mirror as she combs her long brown hair down around her breasts.  She feels like a completely different girl, a naughty girl, as she straps a matching leather collar around her neck.  She smiles in the mirror to herself, gives her reflections one last glance as she closes the door behind her.
                Making her way to the middle of their bedroom, she hears a door slam shut.   Her stomach fills with butterflies, because she knows her fiancé has just arrived home. She can hear him place the keys on the kitchen counter as he yells for her, "Sarah are you home?" 
 "Yes, I am here back in the bedroom" she quietly replies. She listens to the shuffling of his shoes on the carpet, as he makes his way back to the bedroom where she is standing and anxiously waiting.
 "What are you doing back here?" he asks as he rounds the corner into the bedroom. "Oh. My. God," he says, finding Sarah standing in the middle of their room with nothing but her leather corset and collar on.
"What are you doing?" he asks extremely confused and surprised.  "I want to be your sub tonight," she says as she swings a pair of nipple clamps in front of him.
"Are you serious?" he replies with astonishment.
 "Absolutely" she adds, as she passes him the clamps.
"I will not object to that" he says, turning her around. With her back against his hard masculine chest, he clamps the cold metal down onto her nipples one at a time. The pressure created electrifies her, as his massive hands bring her total delight and pleasure.
Whispering in her lover's ear, she moans," I want to be your slave tonight," as he eagerly makes her his….
 ——————————————— End Story ———————————————