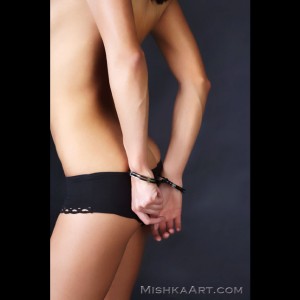 Fine-Art Print (1012)
From: $19.95
Beautiful fine-art print. Choose your size and type below.
(The watermark of 'MishkaArt.com' will not appear on your print)
This brand-new collection of erotic Fetish art photography features the work of Mishka, accomplished contemporary Fetish photographer & artist. These exciting original images represent the very best of erotic Fetish photographic art. These stunning photographs present the art of Fetish: erotic yet classy, otherwise shocking content displayed with an accessible and beautiful, almost reverent, sensitivity. Bound as an exquisite coffee-table book that will be the pride of your collection and a wonderful showpiece for your home.
The book itself is a beautiful work, with an extra-thick full-color sixfold-scored laminated dust jacket which hides a luxurious black fabric cover with silver foil stamping on the front and spine, extra-thick black endsheets, and every page printed full-bleed and full-color on thick glossy paper.
This book presents a selection of Mishka's favorite images from his collection, hand-picked and arranged by the artist. It represents a cross-section of ideas, themes, and models that have inspired him. Contains images of a broad range of fetishes and other stylish erotic subjects. Includes artful nudity, but no explicit sexual content.